Fr. Michael Gaitley wants EVERY home to have an image of the Divine Mercy in it. To that end, Lighthouse Catholic Media is partnering with the Marians of the Immaculate Conception to make an affordable 10 x 18 image now available for just $19.95 gallery wrapped. Framed images are also available (Black Frame $39.95 and Gold Frame $49.95.)
Get you image today, and have it blessed and hung in your home for Divine Mercy Sunday April 12, 2015. Images make a perfect gift for the Year of Mercy that Pope Francis has called to begin December 8, 2015.
Schools and Parishes, call me for bulk discounts- put an image in EVERY classroom and office at your parish!
Julie Musselman 727-709-8649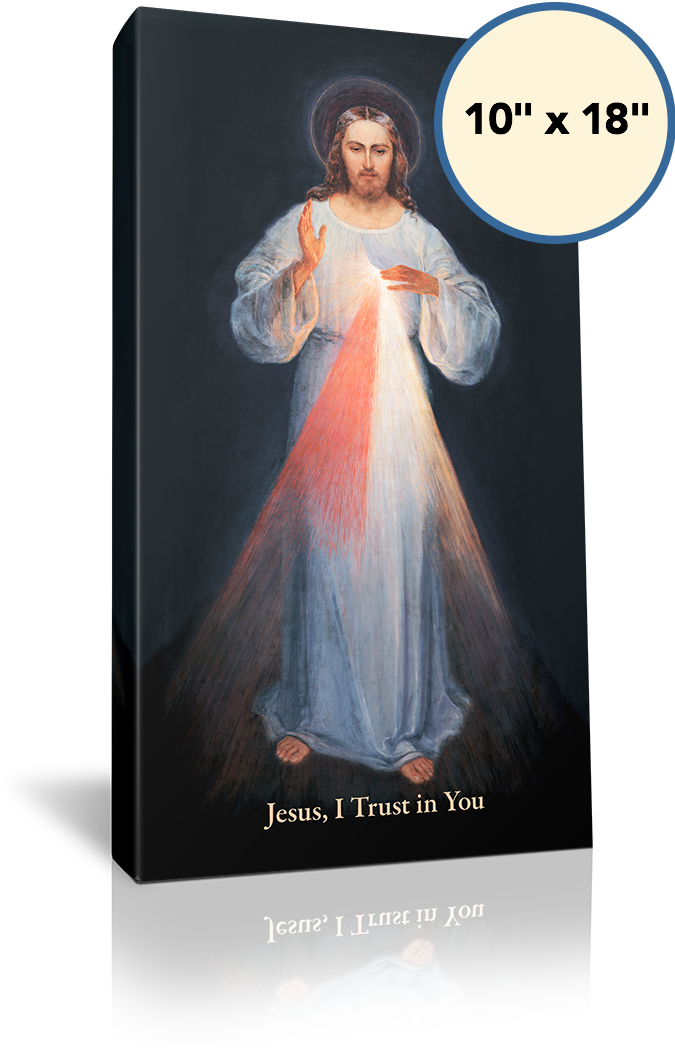 This original version was painted by art professor Eugene Kazimierowski under the supervision of St. Faustina and her confessor, Blessed Michael Sopocko, in Vilnius. It was completed in 1934 and underwent enhancements in 2011. Although there are several versions of this image, our Lord promised that graces would flow through it (Diary of St. Faustina, 313).

Prepare your family to celebrate the upcoming "Year of Mercy"that Pope Francis has announced for 2016! Now every family can afford high-quality sacred art to beautify and sanctify their home! Professionally crafted in the United States, these premium canvases are fade-resistant for up to 50 years and make the perfect gift to decorate any living space.
To Learn More about Divine Mercy or the Divine Mercy Image, check out these booklets:
Divine Mercy Explained by Fr. Michael Gaitley
This booklet gives you a brief and easy-to-understand introduction to Divine Mercy. Specifically you will learn:
-- Divine Mercy history and context
-- The essential elements of the devotion
-- How you can live the message
In short, it's everything you need to know about this important message and devotion! This booklet also includes two bonus appendices: Valuable Divine Mercy prayers and Divine Mercy wisdom from Popes John Paul II and Benedict XVI.
The Divine Mercy Image Explained by Fr. Michael Gaitley.
Learn the amazing story behind The Divine Mercy Image in this information and accessible booklet from the Marian Father of the Immaculate Conception. These inspiring truths about the Divine Mercy Image show the hey elements of the Image with remarkable depth and beauty.