Plan your Summer Small Group -
Wisdom & Works of Mercy
Join Fr. Michael Gaitley, MIC, in a 10 week group study as he delves into the great key to wisdom: The Most Holy Trinity. Using his popular book
The 'One Thing' is Three
as a primary guide (and his DVD-based lessons, of course!) Fr. Gaitley shares:
fresh insights into the relevance of the Trinity to our daily lives
how the Trinity illuminates every aspect of our faith
how knowing and loving our Triune God allows us to live our faith to the fullest
This group also uses

Fr. Michael Gaitley's brand new book

'You Did It to Me' - A practical Guide to Mercy

in Action

.
Coordinator Kit
Start by getting your coordinator kit, $59.95. Then set your dates for June, July and August. and invite friends and family to your parish or home. The Coordinator kit includes everything in the participant packet (see below) as well as the DVD set and the Leader guide.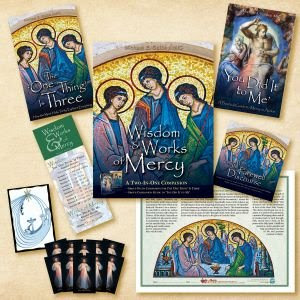 participant kit
Each person who joins the group will need the Participant Packet which includes the following 3 books:
Wisdom and Works of Mercy: A Two-in-One Companion

(group workbook)
'You Did It to Me': A Practical Guide to Mercy in Action
The 'One Thing' Is Three: How the Holy Trinity Explains Everything
and also
Prayer Card with the Three Points of Communion
10 Divine Mercy business card size prayer cards
CD with the "Farewell Discourse" from The Gospel According to John by St. Luke Productions
8 1/2" x 11" full-color Three Points of Communion Certificate
Full-color bookmark with reading assignment
The participant kits for $39.95
Start planning your group today!
Allow 2 weeks before your start date when you place your orders

.
I am happy to assist you with ideas and orders.