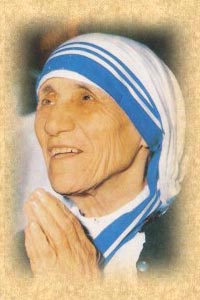 Blessed Mother Teresa of Calcutta 1910-97
Lover of the Heart of Jesus
Today we begin to consider the life of Blessed Mother Teresa. Fr. Gaitley tells us that like our Blessed Mother Mary, the deepest desire of Blessed Mother Teresa of Calcutta was to satiate the thirst of the Heart of Jesus for love and for souls
"I Thirst." These two short words are one of the seven last sayings Jesus said from the Cross. They became two of the most important words of Mother Teresa.
--Julie Musselman
This picture I took in the Basilica of the Immaculate Conception in DC is my favorite picture from a recent vacation.
I was sitting there looking up at this HUGE mosaic of Jesus on the back wall but there was a little figure that I had to look at first before I could see Jesus and that figure was a statue of the Blessed Virgin. It was a much smaller statue than that of the mosaic of Christ but I had to look "through Mary to see Christ".
I think I'll print it out and put it in my 33 days book as I read each day.
--Lynn Denson